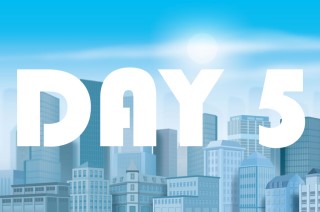 City Advent Calendars are sometimes criticised for including a similar range of gifts every year. Fortunately, the fifth door of the 2017 calendar opens to reveal something brand new and thoroughly impressive.
Gingerbread houses are frequently associated with Christmas and this tiny model is a delight. It is constructed around two hinges, with medium nougat rocker bearings forming the walls of the house and a pair of white 2x2 hinge plates depicting the roof. This is remarkably effective and even gives the impression of some scrollwork details on the front and back, resembling windows. The medium nougat rocker bearings are particularly notable as these have only appeared once before in 70904 Clayface Splat Attack!
View image at flickr
The roof is decorated with a selection of lime green and red 1x1 round tiles, spares of which are included and could prove useful for your own creations. I love this colourful design and the steep pitch of the roof looks great, closely resembling a traditional gingerbread house. The gap between the roof and the walls of the house is a little disappointing but at this scale I think it would be almost impossible to make any improvements.
Overall - 4.5 - This is definitely my favourite gift yet! The model includes some fantastic detail in relation to its tiny scale and the presence of some desirable pieces is welcome too.
Sponsored content