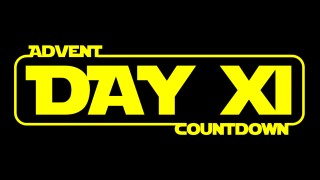 Star Wars: The Last Jedi is now just a few days away so I am hoping the Sequel Trilogy theme which has been developing during the last week will continue until the movie is released. Another model from Jakku would be fitting on day eleven.
Several new creatures were introduced during Star Wars: The Force Awakens, among the most memorable of which is the luggabeast. This lumbering beast of burden is cybernetically enhanced, allowing the creature to cross the wastes of Jakku with relative ease. I was surprised to see a gift like this in an Advent Calendar as animals are notoriously difficult to depict in LEGO, particularly at such a small scale. I think this is a good effort though as the model is recognisable and the colours look great.
View image at flickr
Dark tan pieces represent the luggabeast's leathery skin while dark bluish grey and dark azure form the armoured areas. This is quite effective and I like the dark orange saddle as well as the hollow eye slits on either side of the head. The legs and head are articulated so you can create some walking poses. Furthermore, the hind legs are longer than those at the front so the luggabeast's back is angled when it is standing still, just as in the movie!
View image at flickr
It should also be noted that this model includes a couple of rare pieces, the most notable of which is the dark azure 1x2 inverted slope on the had that only appears in three other sets. Dark bluish grey 1x2 hinge plates are also surprisingly uncommon and could prove very useful for your own models.
Overall - 4.5 - The scale of this luggabeast is slightly odd but I think it looks excellent given its small size and I appreciate the inclusion of something unusual in this year's calendar. The colour scheme is particularly impressive and I am pleased with the articulation too.
Sponsored content