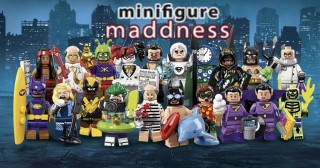 Here's news of the latest offer from Minifigure Maddness:
This month we are offering Brickset readers an excellent preorder only offer on the new The LEGO Batman Movie Series 2 complete set of 20 minifigures for only €74.99 when you enter code Brickset26 at checkout.
This series includes the following 20 fantastic minifigures:
Apache Chief
Black Canary
Black Vulcan
Clock King
Doctor Phosphorus
Friends are Family Alfred
Friends are Family Harley Quinn
General Zod
Jor-El
Killer Moth
Mermaid Batman
Professor Hugo Strange
Soccer Mom Batgirl
Swimming Pool Batman
Tropical Joker
Vacation Alfred
Vacation Batgirl
Vacation Robin
Wonder Twin (Jayna)
Wonder Twin (Zan)
Price match guarantee: we are so confident that you will not find better price online that we are now offering price match guarantee on this product. find a better price on Amazon.co.uk or eBay.co.uk and we will beat that price! . (Price must be in Euro / excludes eBay international listings)
We also offer the following, please view our short new intro video below.
Sponsored content