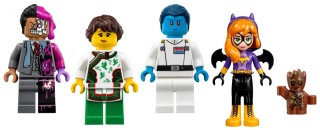 2017 is nearing its end so the time has come for Brickset's annual awards! The awards have been divided into three categories for 2017, the first of which concerns the 'Best Minifigure of the Year'.
A total of 830 minifigures have been released during 2017, more than in any previous year, so choosing just one has proven to be extremely difficult. Nevertheless, the Brickset team has been tasked with selecting their favourites. Find out which minifigures we chose and let us know what you would have picked after the break...
---
CapnRex101
sh334 The Riddler
The Riddler is probably my favourite comic book villain and all six editions of the character have been great. However, the 2017 minifigure found in 70903 The Riddler Riddle Racer is definitely the best yet in my opinion, sporting a suitably garish green suit which is decorated with bright green question marks. I like the printed designs on the arms and the combined hair and hat piece looks excellent too.
Furthermore, the double-sided head perfectly reflects the Riddler's acerbic personality, featuring a sneer on one side and a frustrated expression on the other. I always enjoy minifigures which convey some character so this is superb.
---
MeganL
All four minifigures from 21312 Women of NASA
As a woman in engineering, this was an easy choice for me. Having four technical women minifigures is fantastic. Yes, I've heard the critiques. However, the fact remains that women make up only 13% of all engineers and the proportion is not much better for other science, technology, engineering and math (STEM) fields.
We are still hearing from little girls that "math is too hard" or "science isn't cool". Kudos to LEGO for showcasing that women doing math and science is possible and very cool. From a purely LEGO standpoint, all of the minifigures in this set are fantastic with terrific detail. My particular favourite (if I had to choose just one) would be Margaret Hamilton wearing the stripy dress and buckled shoes from her iconic photograph with the Apollo guidance software.
---
TheBrickPal
colttlnm20 N-POP Girl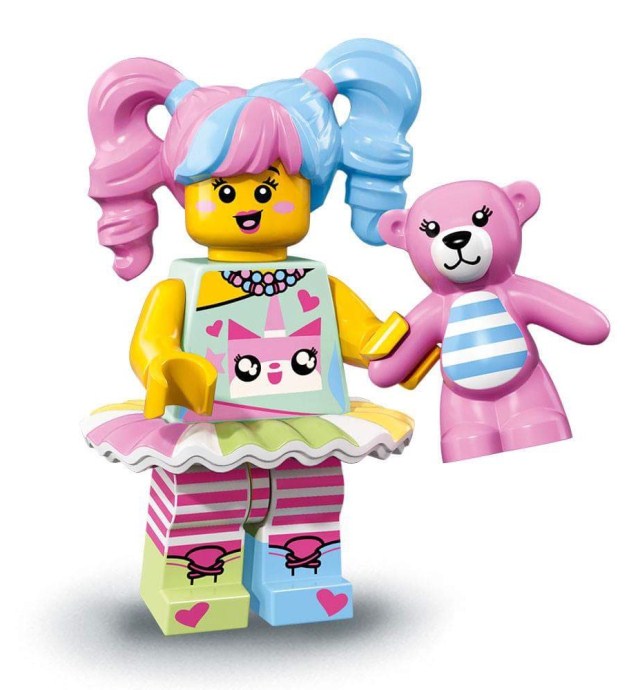 The LEGO NINJAGO Movie offered many unique and beautifully-designed minifigures this year: from Garmadon, to Wu, to Misako, to any of the secret ninja force variants. However, the best minifigure doesn't relate to any of those characters.
Indeed, the one I am talking about is none other than the Collectible Minifigures series N-POP Girl - a background extra who only appears for a few seconds in the film itself. However, she is definitely my favorite of the year, with a pastel color scheme certain to brighten up any collection. Add to that all of the detailed printing and dual-molding, and an awesome recolor of the Batman Movie Harley Quinn hair. Plus, who doesn't love a pink teddy bear? Adorable.
I am also a huge Unikitty fan, so that might have played a bit of a role in my choice. A huge winner, in my book!
---
FlagsNZ
idea032 Captain (Anton)
I am not a minifigure collector and am usually happy with the minifigures that come in sets. However, this year one set stood out due, in part, to one of the minifigures in particular. I really love the 21310 Old Fishing Store and being a former sea captain, I love the Sea Captain minifigure with his Sea Captain's hat and Arran jumper.
What appeals to me about the Sea Captain is that he is in working clothing and not in a formal uniform. That cable knit Arran jumper is just the right thing for the Captain to wear in any rough sea conditions.
---
iso3200
coltlbm22 Easter Bunny Batman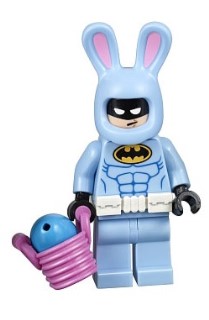 There's been so many minifigures released this year it's hard to know where to start. I thought it best to discount the ones I don't actually own to make the process easier and look at what I have on display.
My pick is Easter Bunny Batman. It's a figure that shouldn't really exist - I mean it's bonkers right? But then again most of the CMFs were too. Part of the appeal was also the anticipation. There'd been quite a few leaks and fakes from the cloners early on - so to finally get the official product in it's limited TRU release was most excellent.
To be honest I liked all four of the figures in the TRU pack, but this one jumps out when viewing them side by side. I didn't especially rate the movie, and I think the theme has been milked, yet they still keep releasing figures that look great and sets I'd like to build!
---
Huw
sh376 Roller Disco Batman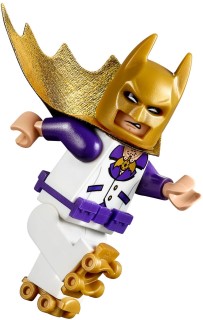 I'm not a huge minifigure fan nowadays but one of my favourites released this year is Disco Batman!
2017 is the 40th anniversary of one of my favourite -- and one of the most influential -- films of all time, one that had a huge impact on popular culture and continues to do so today. No, not that one, I'm talking about Saturday Night Fever, of course.
What could be better, then, than a minifigure influenced by John Travolta/Tony Manero in his classic white suit!
---
What is your favourite minifigure released in 2017? Let us know in the comments and check back tomorrow for our favourite themes and sets of this year.
Sponsored content