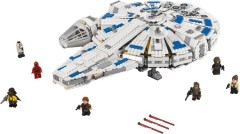 Happy Valentine's Day! Because LEGO loves us so much, a special surprise has graced their social media pages this morning.
75212 Kessel Run Millennium Falcon, right out of Solo: A Star Wars Story, has been revealed. It will be available on April 20th for $169.99 and 1414 pieces, alongside four other System sets and two Buildable Figures which will hopefully be revealed soon.
We will let you know when that happens - but in the meantime, let us know what you think in the comments below...
More photos can be found after the break. The Hollywood Reporter has also published an article highlighting the set.
---
View image at flickr
View image at flickr
View image at flickr
View image at flickr
View image at flickr
Sponsored content