Having been reminded what a superb set 5590 Whirl and Wheel Super Truck is when it came up as the random set of the day yesterday I thought I'd dig mine out and take a few photos.
I emerged from my dark ages in 1995 and by then it was already 5 years old. But, it was still in the shops and I believe I purchased it in 1996 at a slight discount, from Gamleys (remember them?). I haven't kept many sets from that era built up but this is one I could not bear to dismantle.
Let's see how it measures up to today's sets...
---
Sets produced for the Model Team theme were at the pinnacle of complexity, aesthetics and size and with 1063 pieces in this set it was the largest set released in 1990 by some margin. The next biggest in terms of number of pieces was the huge 6399 Airport Shuttle, so clearly parts density is much higher in this model than in its contemporaries.
It's effectively three highly detailed and functional models in one. The tractor unit, the trailer and the helicopter. It's also huge: about 60cm from cab to tail fin.
View image at flickr
The 6-wheel tractor unit features opening doors of the type used in trains at the time, and steering: something that's sadly lacking from today's successor to Model Team, Creator, sets.
It's packed with details: wing mirrors, lights, horns, windscreen wipers and other greebles. The cab is kitted out with steering wheel and levers. The doors are printed but most other decorations are stickers, which has stood the test of time and look as good as when I applied them.
I'm not sure why, but it looks as if I didn't apply the sticker to the piece usually used as a radar dish at the top of the cab, which really should have been angled down a bit more before I took these photos.
View image at flickr
Steering is achieved by twisting the spare wheel behind the cab.
View image at flickr
The helicopter is a thing of beauty and could stand alone as a set in its own right. It's one of the best examples of a rotorcraft LEGO has produced, surpassed only by another Model team set, 5542 Black Thunder.
Again, it utilises train doors and is packed with small details.
View image at flickr
The rear of the body is neatly contoured using slopes.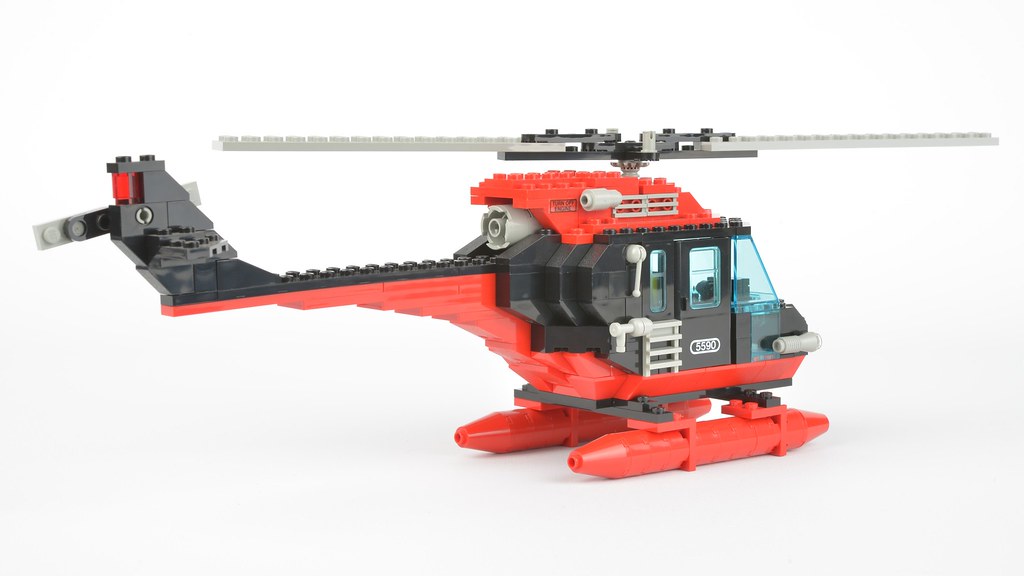 View image at flickr
Even the trailer is impressively detailed.
View image at flickr
The top is fitted with hinged sections that are designed to hold the helicopter steady.
View image at flickr
It really is a beauty...
View image at flickr
View image at flickr
View image at flickr
It's tempting to say that they don't make 'em like this any more and, actually, they don't. This set must surely represent the pinnacle of traditional 'System' models, showing what can be achieved with just basic bricks, plates and slopes, before the introduction of curves, wedges, ball joints, and ever more specialist pieces.
Today's sets are undeniably sleeker, more sophisticated and packed with fantastic new parts but, 28 years on, I reckon this one compares favorably with any of this year's releases.
LEGO continued to produce Model Team sets at a rate of one or two a year until 1999 but in my view none surpassed this one. I have a few others made up still and could be persuaded to dig out a few more if there's interest.
---
Grey or white?
View image at flickr
View image at flickr
Grey photographic background or white? I thought I'd try white for a change but I think I prefer grey as the colours stand out better against it, but I'd be interested to hear your views.
Sponsored content