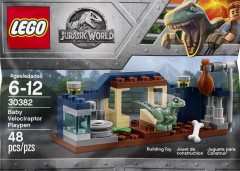 The cute baby dinosaur that's included in a couple of the boxed Jurassic World: Fallen Kingdom sets will also be available in a polybag, 30382 Baby Velociraptor Playpen, which has been listed on WalMart's website.
The boxed sets are due for release next week, I believe, and we'll be commencing our reviews of them on Monday.
Thanks to Mjmannella for the news.
Sponsored content