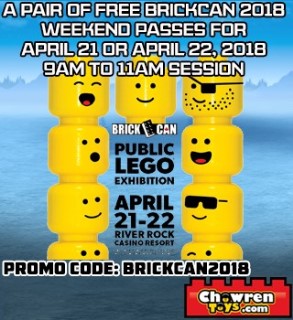 If you're in the Vancouver area, check out this great giveaway from Chowren Toys:
We are proud to be sponsoring BrickCan again this year so we are giving away 10 FREE pairs of tickets to the public exhibit!
It will be 3rd annual BrickCan event, Vancouver's only adult LEGO fan convention, which runs from April 20th to the 23rd, at the River Rock Resort Casino in Richmond, BC Canada.
To obtain your free pair of public exhibit tickets, all you need do is click here then enter promo code Brickcan2018 at the check-out to receive the free tickets.
Note that this year we were not given physical tickets by BrickCan so all tickets will be available for pick up from the River Rock Casino Resort. Tickets will be under the name given at check out.
The tickets are for either Saturday April 21, 9am to 11am or Sunday April 22, 9am to 11am. This is due to the limited capacity of the venue. There are a total of 10 pairs available, 5 for each day. It is one pair of tickets per household and the tickets are not for resale as they have no dollar value. There are only 10 pairs available so take these only if you are serious about attending.
Sponsored content