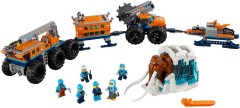 Italian store RadioKontrol.it has now published images of the six City Arctic sets we were awaiting pictures of.
As you might expect, the sets all feature vehicles, and all are involved in exploring the ice for frozen specimens, the most impressive of which are a sabre-tooth tiger in 60193 Arctic Air Transport and a wooly mammoth, in 60195 Arctic Mobile Exploration Base, right.
Take a look at the pictures and let us know if you spot any cool features or new parts.
via The Brick Fan
Sponsored content