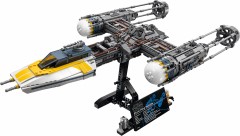 Images of almost every summer LEGO set have emerged over the last few weeks and we are looking forward to reviewing many of those during the coming months.
However, we have already published reviews of most sets released during the spring so it is time for a recap, just in case you missed any of them.
Collectable Minifigures:
Ideas:
The list continues after the break...
Jurassic World:
Marvel Super Heroes:
Speed Champions:
Star Wars:
---
We have a few more Jurassic World and Star Wars reviews still to come so keep an eye on the homepage for those over the next few days.
Which of the summer sets revealed so far are you most looking forward to? Let us know in the comments.
Sponsored content