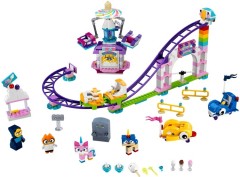 Another hitherto unseen Unikitty! set has been revealed on Tesco Direct. 41456 Unikingdom Fairground Fun will cost £39.99 in the UK and includes a small roller coaster, a spinning chair ride and two bumper cars.
Are you looking forward to the Unikitty! sets? Let us know in the comments.
News via BricksFanz.
Sponsored content