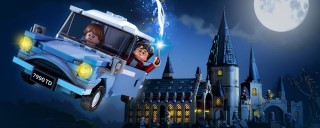 A banner image has been uploaded to the Elves page on shop.LEGO.com, presumably in error, showing 75954 Hogwarts Great Hall alongside the hitherto unseen 75953 Whomping Willow.
The latter set will include the eponymous Whomping Willow as well as the Flying Ford Anglia, an additional section of Hogwarts Castle and a selection of suitable minifigures. Harry Potter, Ron Weasley, Severus Snape, Argus Filch and another unknown pupil are visible in the image but there may be others that we have yet to see.
Are you looking forward to the upcoming Wizarding World sets and which other characters are you hoping to see in minifigure form? Let us know in the comments.
Sponsored content