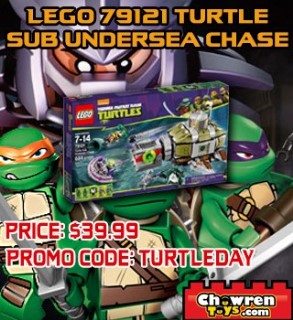 Here's word from Jason about Chrowren Toys' latest promotion for Brickset readers:
Did you know May 23 is World Turtle Day?
To celebrate we are making Teenage Mutant Ninja Turtles 79121 Turtle Sub Undersea Chase available to readers of Brickset for just $39.99 each. All readers need to do is enter promo code: TURTLEDAY at the checkout to get the discounted price. There are total of 55 units available and are limited to 10 per customer while supplies last.
This promotion will last until May 27, 2018 11:59pm (US West Coast time).
Sponsored content