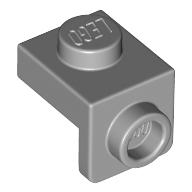 LEGO has published inventories for most of the summer sets and these include a vast array of over 700 new parts, some of which have new prints or are now available in a new colour.
Perhaps the most appealing of the brand new pieces are the two 1x1 brackets. These have the potential to be incredibly useful but only the downward bracket has been added to the inventories so far. I am also excited to see how builders might use the 1x1 roof tile element which was created for the Unikitty! theme, although it will appear in 75954 Hogwarts Great Hall too.
Unikitty! also provides several new colours for both the 1x1 round plate with hollow stud and the 1x1 round tile with vertical shaft, sometimes known as the 'nipple tile'.
Which of these new parts or recolours are you most looking forward to using in your own creations? Let us know in the comments.
Sponsored content