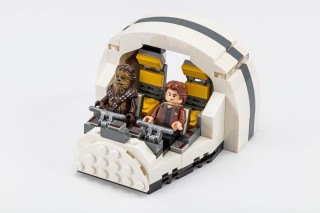 San Diego Comic-Con will be taking place next month and the first of the 2018 exclusive LEGO items has been announced on LEGO's Twitter feed. 75512 Millennium Falcon Cockpit is based upon the craft from Solo: A Star Wars Story and includes the same Han Solo and Chewbacca minifigures found in 75212 Kessel Run Millennium Falcon.
Perhaps the most interesting aspect of this set is the packaging which resembles that of a video cassette tape. You can view an image of the box after the break...
Will you be attending San Diego Comic-Con this year and what do you think of this exclusive set? Let us know in the comments.
Sponsored content