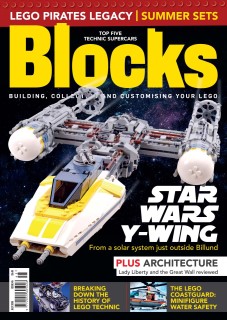 Hers's the press release for the latest issue:
Blocks magazine Issue 45 arrives in shops today, packed full of LEGO content including the UCS Y-wing, Architecture, Technic and Pirates.
As well as a detailed review of the new Star Wars Ultimate Collector Series Y-wing, Blocks checks out the new LEGO Architecture sets and the City Mountain Police range.
There is a look back at the history of LEGO Technic, checking out how the most complex of the building systems originated. With the launch of the Bugatti Chiron, it is also time to count down the top five Technic supercars. What's more, this month's Technique section demonstrates how the holes in Technic bricks can be utilised for unorthodox but useful connections.
A selection of LEGO models from talented builders are presented in Month in MOCs and Ideas Showcase, with a new exclusive Blocks build showing how to properly recreate the rope bridge from The LEGO NINJAGO Movie.
That still leaves space for Blocks to take to the sea, with a look back at the classic LEGO Pirates theme and an interview with a Coastguard officer who is using LEGO sets to educate on social media. All of the regulars are included too, including Brick Wife, Blocksword, Brickpicker, This LEGO Life and Month in LEGO.
To get Blocks magazine delivered to your door – ahead of everyone else – visit www.blocksmag.com and check out the subscription deals available.
Sponsored content