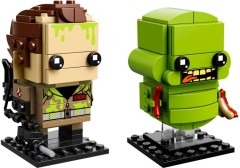 A selection of BrickHeadz from several different properties are now available. These include 41622 Peter Venkman & Slimer, 41618 Anna & Olaf, 41619 Darth Vader and three sets from Harry Potter, among others.
Please consider using these links and helping to support Brickset when making any purchases:
USA | Canada | UK | Germany | France
Look out for our review of the much-anticipated 41621 Ron Weasley & Albus Dumbledore later today.
Sponsored content