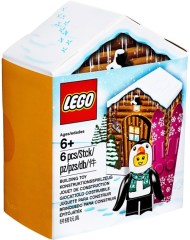 Hoth Bricks has discovered an eBay listing for a new promotional minifigure, 5005251 Penguin Suit Girl. This seems likely to be a gift-with-purchase at shop.LEGO.com later in the year, following the example of 5005250 Party Banana Juice Bar that will be available on the 9th of July.
The pack contains a girl wearing a penguin costume, reminiscent of the Penguin Boy from Series 16 of the Collectable Minifigures, as well as a pair of pink skis which are decorated with snowflakes.
What do you think of this minifigure? Let us know in the comments.
Sponsored content