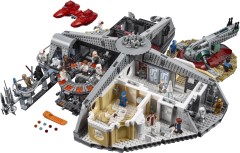 LEGO VIPs can now purchase 75222 Betrayal at Cloud City at shop.LEGO.com.
If you're still on fence as to whether it's for you, check back later today for our resident Star Wars expert CapnRex101's detailed and thorough review.
Please use these links to place your order, which helps keep Brickset online and ad-free for members.
USA | Canada | UK | Germany | France
Thank you!
Sponsored content