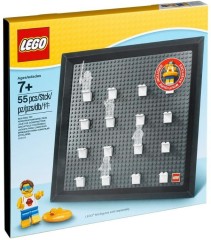 Zusammengebaut has published a high-resolution image of 5005359 Minifigure Collector Frame. This display frame will be available with purchases totalling more than £55, $75 or 55€ at shop.LEGO.com from the 15th of October until the end of this month.
LEGO has produced two previous minifigure frames, featuring Marvel Super Heroes and The LEGO Batman Movie branding. However, this example is particularly interesting as it includes an exclusive minifigure which features several new printed elements.
Do you like these minifigure display frames or do you prefer different storage solutions? Let us know in the comments.
Sponsored content