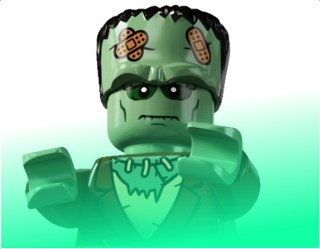 Mary Shelley's Frankenstein was published in 1818 and the epistolary novel is celebrating its 200th anniversary this year. Several versions of Victor Frankenstein and his monstrous creation have appeared in LEGO sets during the last two decades, at a variety of different scales.
Explore the history of Frankenstein's monster in LEGO, along with some interesting figures which take inspiration from its amoral creator, after the break...
1382 Scary Laboratory
Several popular monsters were introduced to LEGO for the first time in 2002, as the Studios theme started to focus upon Horror movies! The first rendition of Frankenstein's monster appeared in 1382 Scary Laboratory and this minifigure captures several of the character's traditional features, including the enlarged head that was popularised by 1931's Frankenstein film. A maniacal scientist is included as well, presumably taking some inspiration from Victor Frankenstein's portrayal in the movie.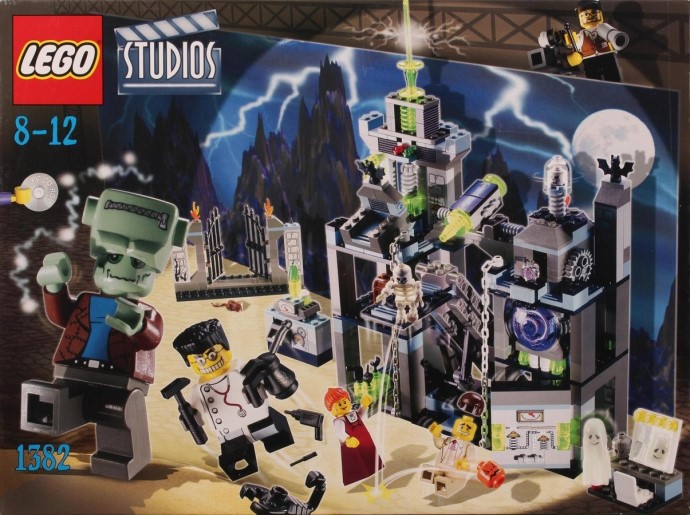 ---
The monster from Mary Shelley's original novel is described as a creature of grotesque contrast but its modern appearance was defined by Boris Karloff's famed portrayal from the 1931 film. This Monthly Mini Model Build from 2010 is based upon that source and includes a pair of 1x1 round plates that represent either ears or bolts in either side of the figure's neck.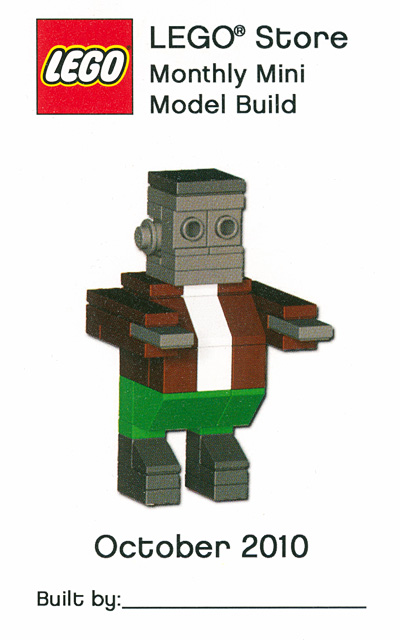 ---
The fourth series of Collectable Minifigures included three different horror characters, the first of whom is The Monster. This marvelllous minifigure bears some resemblance to its predecessor from 2002, featuring the same sand green skin tone and a head that consists of two pieces, but is more detailed. I particularly like the bandages over its scars and the monster's sunken eyes.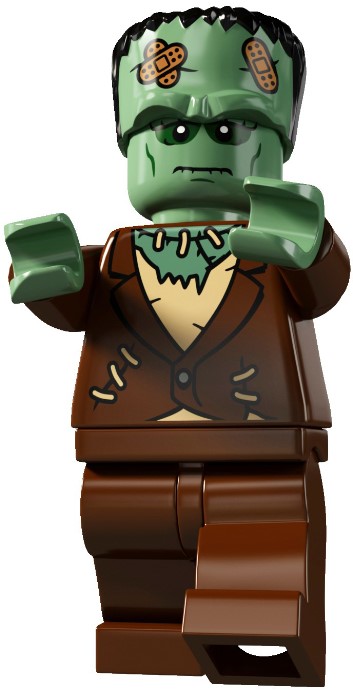 ---
8804-16 Crazy Scientist
Victor Frankenstein was portrayed as a tragic figure in Mary Shelley's novel but the many subsequent versions of the character have fluctuated between amorality and overt madness. The Crazy Scientist from the fourth series of Collectable Minifigures is evidently inspired by the latter version, featuring a wild hairstyle, a pair of bright pink goggles and an evil facial expression!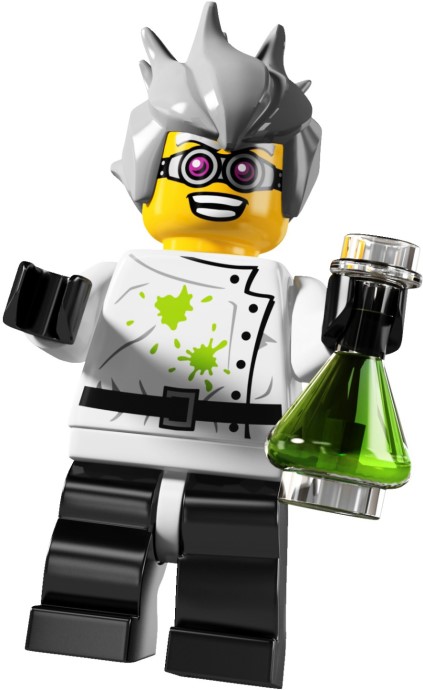 ---
9466 The Crazy Scientist & His Monster
The Monster Fighters theme includes an impressive selection of classic monsters, among whom are a mad scientist and his twisted creation. These minifigures are very similar to their Collectable Minifigure counterparts and the scientist's laboratory is reminiscent of 1382 Scary Laboratory. Both models include the famous Tesla coils that were used in 1931's Frankenstein as well as a selection of frightening artefacts.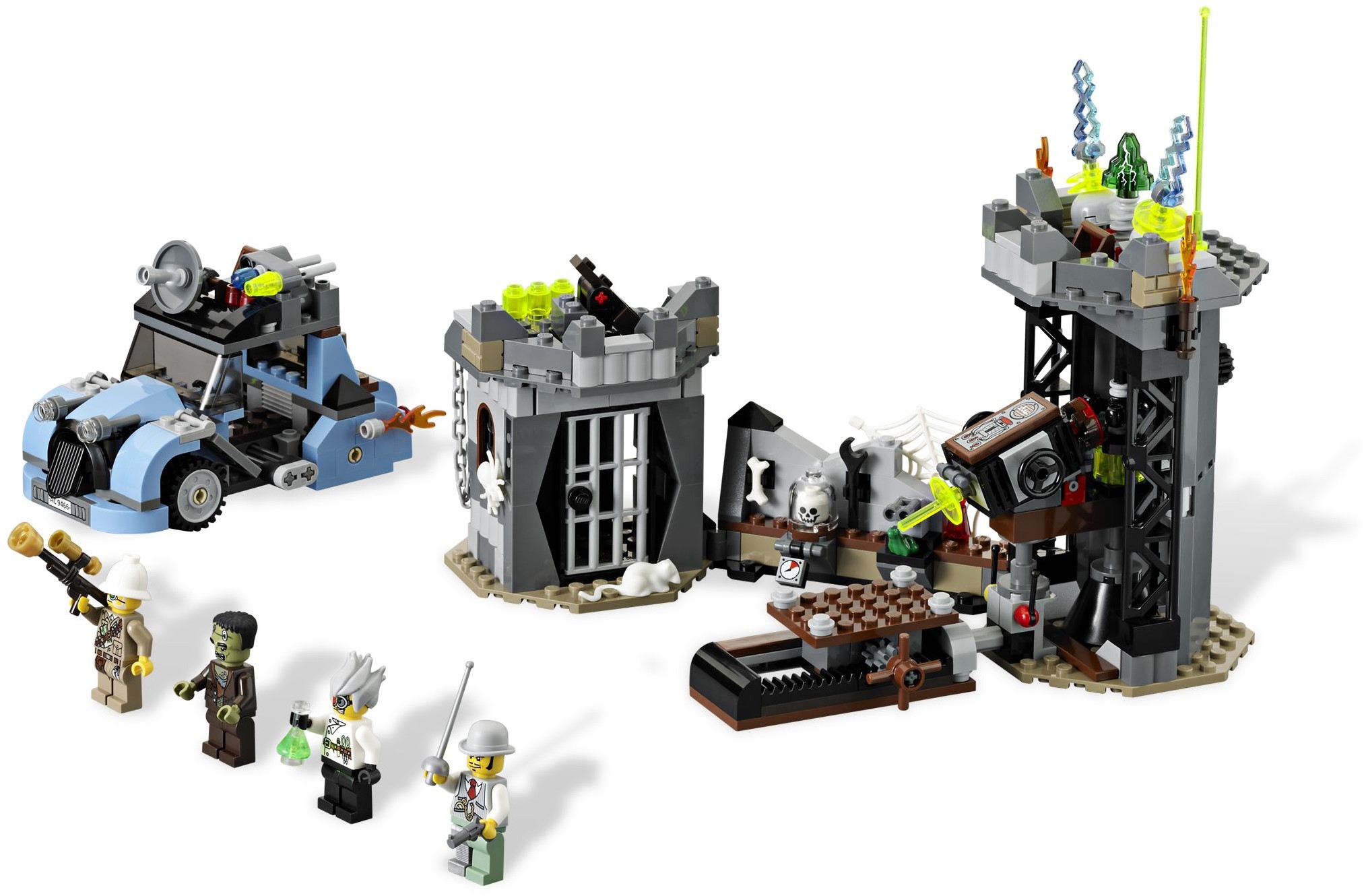 ---
10228 Haunted House
Frankenstein's monster provided inspiration for the character of Lurch from The Addams Family, who served as butler to the eponymous household. A similar character appears in 10228 Haunted House, featuring light bluish grey skin and wearing a remarkably tidy dress coat. Presumably this is another creation of the Crazy Scientist from 9466 The Crazy Scientist & His Monster.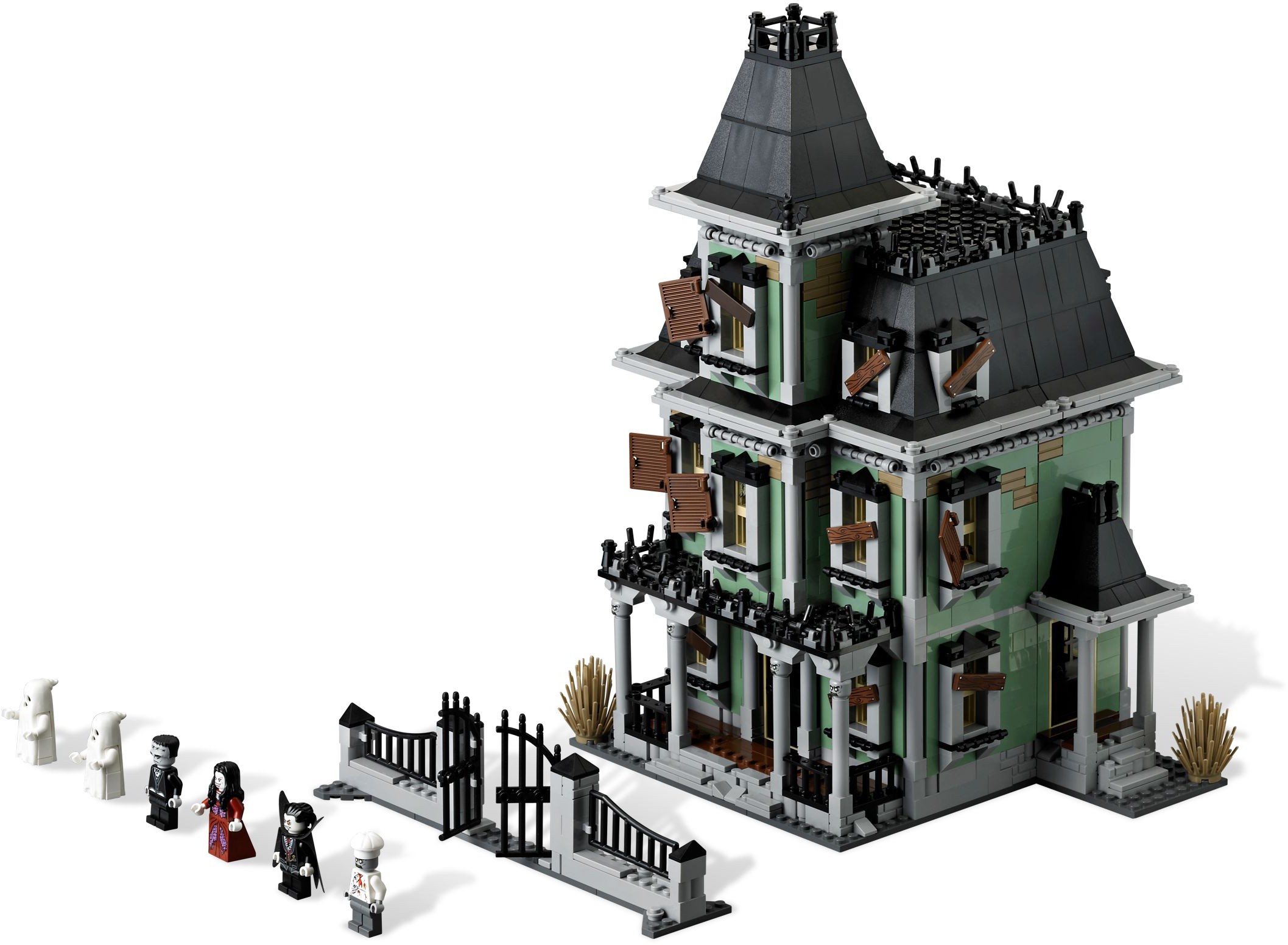 ---
LEGO released a selection of Pick-A-Brick models during 2012, all of which were primarily constructed using 2x2 and 2x4 bricks. PAB9-1 Monster is probably the simplest such model but is still recognisable as Frankenstein's monster, including two 1x2 bricks with Technic pins that represent bolts in its neck as well as a reasonably traditional colour scheme.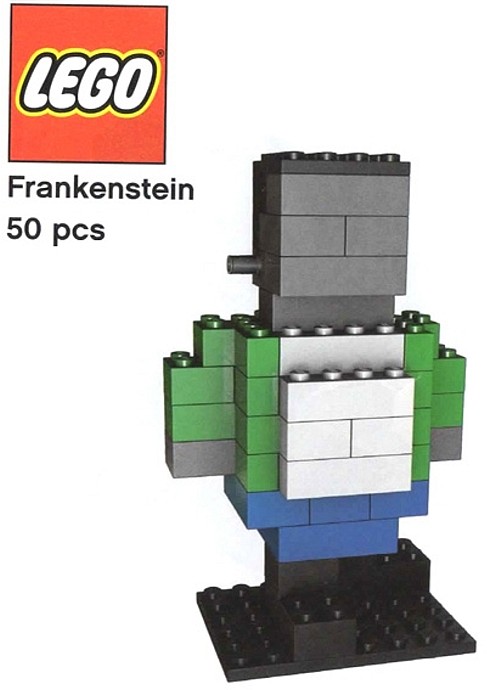 ---
40104 Frankenstein's Monster
A second Monthly Mini Model Build representing Frankenstein's monster was produced in 2014. This model is constructed at the scale of Miniland figures and looks good to me. LEGO is an ideal medium for capturing the angular head which has become an iconic element of the monster's design, hence the release of so many brick-built models depicting this character!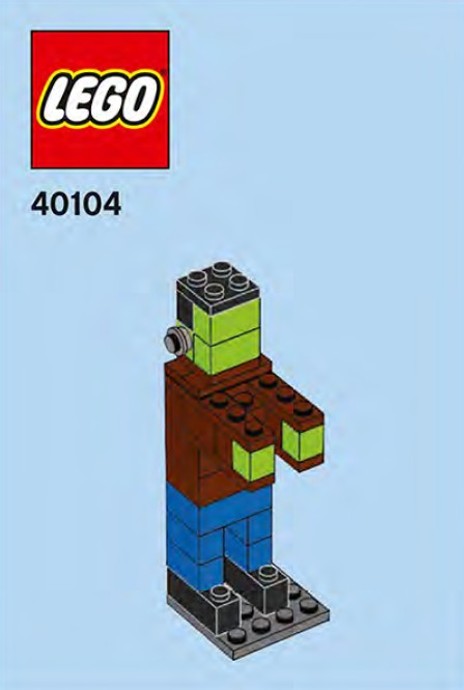 ---
71010-3 Monster Scientist
Series 14 of the Collectable Minifigures was focused entirely upon horror characters and includes the Monster Scientist. Like his predecessors from the Studios and Monster Fighters themes, there are no official links between this figure and Victor Frankenstein, although every mad scientist can potentially trace inspiration to Mary Shelley's novel of 1818. Furthermore, it seems likely that this figure is responsible for the creation of the next character on our list.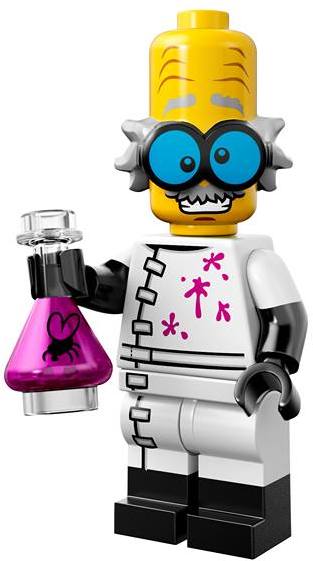 ---
Frankenstein's monster might not traditionally be associated with music, although Lurch can be seen playing a harpsichord during the opening credits for The Addams Family. However, the Monster Rocker is evidently a skilled musician, carrying a red guitar which is decorated with a bat motif. His olive green skin tone is unique and this monster seems much friendlier than its many predecessors.
---
TRUFrank-1 Frankenstein's Monster
Another brick-built rendition was produced for Toys R Us stores in 2016. This model consists of just 37 pieces but is instantly recognisable as the famed monster, wearing the coat which was popularised by Sir Christopher Lee's performance in 1957's The Curse of Frankenstein. Modern incarnations of the creature often sport a similar jacket so it is perhaps surprising that LEGO minifigures and models have rarely included this garment.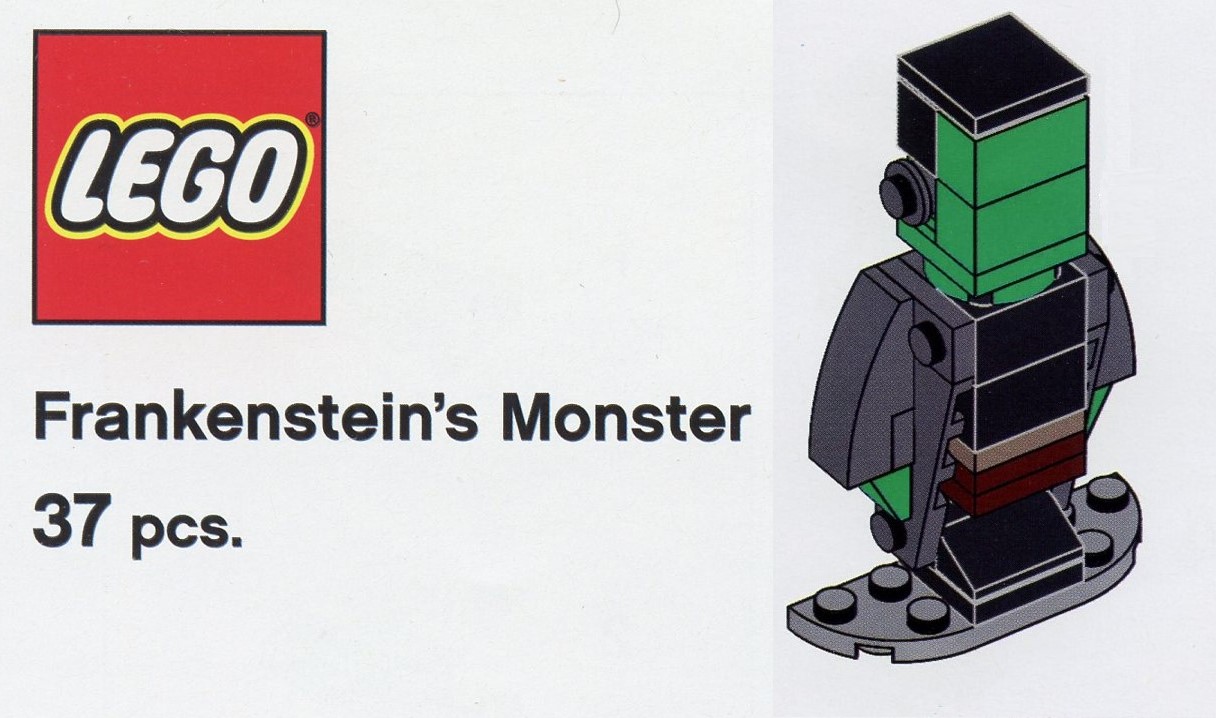 ---
Which is your favourite version of Victor Frankenstein or his famous monster released to date? Let us know in the comments and have a happy Hallowe'en!
Sponsored content