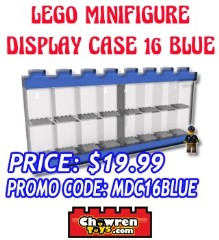 Jason at Chowren Toys tells me that the minifig cases have been selling well. He has a few left and there's a few days left to buy them at a great price.
"We recently became the West Coast distributor for LEGO Storage by Room Copenhagen. To help us launch this new business Room Copenhagen was kind enough to offer us exclusivity Blue Minifigure Display Case 16 for the rest of 2018.
"To celebrate we would like to make a special offer to all the readers of Brickset this item for $19.99.
"All readers need to do is enter promo code: MDC16BLUE at the checkout to get the discounted price. There are total of 3000 units available and are limited to 30 per customer while supplies last. This promotion will only last until Nov 4, 2018 11:59pm (US West Coast time)
"Unlike the red and black display cases the blue display cases come packaged with a FREE LEGO city minifigure!"
Sponsored content