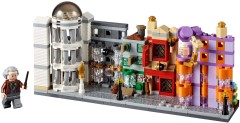 40289 Diagon Alley is now available with purchases exceeding £80 or 80€ at shop.LEGO.com in the UK and Continental Europe. This set includes an exclusive Garrick Ollivander minifigure along with several famous buildings from Diagon Alley.
Please help support Brickset by using the following links when making any purchases:
USA | Canada | UK | Germany | France
A similar offer will soon become available in North America, starting on the 9th of November.
Sponsored content