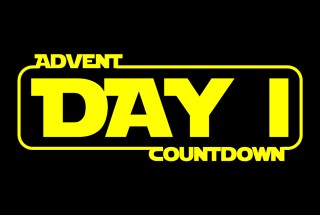 The annual LEGO Star Wars Advent Calendar is now entering its eighth successive year and has seemingly included miniature versions of almost every vehicle from throughout the entire saga, as well as an excellent selection of minifigures.
Nevertheless, my anticipation for the 2018 set has not abated. This calendar has more material from which to draw inspiration than its many predecessors, potentially encompassing Star Wars: The Last Jedi and Solo: A Star Wars Story. Let's find out whether our first gift is based upon either of those sources...
In fact, we are beginning on Tatooine, the very first planet to appear in Star Wars, with Luke Skywalker's X-34 Landspeeder! A similar model previously appeared in 75056 Star Wars Advent Calendar from 2014 but that does not bother me as this updated model is even more impressive than the previous rendition. For instance, the engines now include dark red air intakes and the left nacelle exhibits more wear than the others, matching the source material perfectly.
View image at flickr
The dark tan seats are also new and they look fantastic, making clever use of a 1x2 panel. Furthermore, the light bluish grey band around the nose, representing the repulsor vents, looks magnificent and I like the trans-black windscreen, although a single 1x2 slope would have been preferable to two 1x1 slopes.
Overall - 4.5 - The LEGO Star Wars Advent Calendar is off to an excellent start! New vehicles are often more appealing than those which have come before but I am pleased to see Luke's Landspeeder return.
Sponsored content