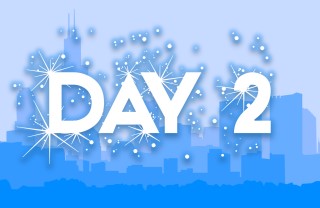 LEGO City Advent Calendars frequently include a minifigure within the first couple of days so I am expecting to find one behind door number two, perhaps as a thematic accompaniment for the impressive Space Shuttle toy from yesterday.
Let's open the second door and find out...
This minifigure feels very familiar, sporting a bright green jacket which has appeared in several previous Advent Calendars, among other sets. Nevertheless, I like the metallic silver zip on the front of the child's torso and his blue trousers look superb too. The double-sided head is slightly rarer and features a smile on one side and a worried expression on the other.
View image at flickr
However, the most appealing aspect of this gift is the dark bluish grey hat which is only available in three other sets and suits the character perfectly. Two printed coins are also included, one of which is intended to be a spare.
View image at flickr
Overall - 3.5 - I am fairly satisfied with this minifigure but would rather it had included a different torso as this design is extremely common.
Sponsored content