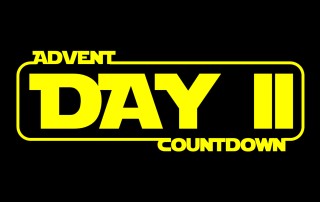 Luke Skywalker's X-34 Landspeeder is associated with Tatooine, leading me to wonder whether the second day of this Advent Calendar might contain another gift from the famed desert planet.
Such consistency has been a feature of past Star Wars calendars so I am expecting that trend will continue today.
Rose Tico is perhaps the most divisive character from the Sequel Trilogy so this minifigure will not appeal to everyone. However, this is a magnificent rendition of the character, featuring a unique hair piece which looks splendid when compared with the source material. Moreover, the double-sided head captures a great deal of personality, especially on the reverse where Rose appears rather angry.
View image at flickr
The dark tan uniform is similarly impressive and has only appeared once before in 75176 Resistance Transport Pod. It includes an intricately detailed belt along with some Aurebesh letters that read 'GLD', standing for 'Ground Logistics Division'. Rose comes with a black blaster pistol which is great, although something unique like her electro-shock prod would have been even better in my opinion.
View image at flickr
Overall - 4.5 - LEGO Star Wars Advent Calendars often include rare minifigures and this is an excellent example. It looks perfect when compared with the movie and is only available in one other set.
Sponsored content