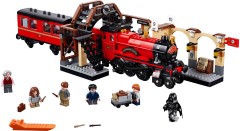 Brickset's annual Holiday Gift Guide has now reached its halfway point and this article is focused upon sets which cost between $50 and $100 in the US.
Read about recommendations from the Brickset team after the break...
---
CapnRex101
75955 Hogwarts Express ($79.99, £74.99, 79.99€)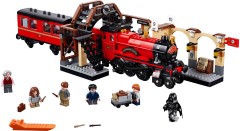 Hogwarts Express
75955
Choosing a single set within this price bracket is always extremely difficult and the 2018 product range is no exception. 60204 City Hospital, 75230 Porg and 76108 Sanctum Sanctorum Showdown are magnificent sets and I would highly recommend any of them, depending upon your particular interests.
Ultimately, I have chosen 75955 Hogwarts Express. This set looks absolutely brilliant on display, capturing far greater detail than any previous rendition of the famed steam locomotive and offering exceptional play value. Moreover, the station platform is excellent and I love the minifigures, almost all of which are only available here. It represents good value too in my opinion so really stands out as being among the best sets of 2018.
You can read our review here.
---
iso3200
75954 Hogwarts Great Hall ($99.99, £89.99, 99.99€)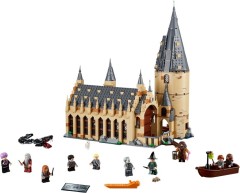 Hogwarts Great Hall
75954
I struggled to choose in this category as there are a lot of IP based sets here which don't always offer the best value for money. However, I finally caved in and settled for set 75954. Any fan of Harry Potter should have Hogwarts in some shape or form and this is a decent sized set with a brilliant selection of 10 minifigures. Flying broomsticks, a ghostly figure, brick built creatures and some great references to the source material all make this a very competent set. The interior may look a little small, but it's a good place to play.

Surely, anyone lucky enough to be unwrapping this will be over the moon, and for those who are not heavily invested in Harry Potter or the Wizarding World, it's ultimately a castle - and LEGO castles are always a good thing.
You can read our review here.
---
TheBrickPal
75230 Porg ($79.99, £69.99, 79.99€)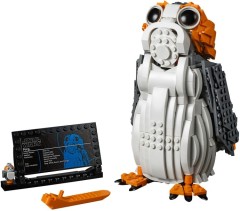 Porg
75230
Porgs are one of the most beloved Star Wars creatures of recent memory, especially by kids, so what better thing to give to the Jedi-lover in your life than 75230 Porg?
The set is full of great building techniques, has a cool mouth-opening feature, and is also in scale with another fantastic recent set, 75187 BB-8. For those who enjoy collectible display items, LEGO, and the Force, what more could you ask for...
You can read our review here.
---
MeganL
41196 The Elvenstar Tree Bat Attack ($79.99, £69.99, 79.99€)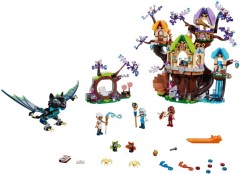 The Elvenstar Tree Bat Attack
41196
This category is always the most difficult for me to choose - and there were so many good sets this year! I loved 41194 Noctura's Tower and the Earth Fox Rescue, since it features the most awesome moving function that I've seen in an Elves set. 41347 Heartlake City Resort is another terrific set, with plenty of play value, lots of detail and even a monorail. 41340 Friendship House is a worthwhile set as well. However, for the building experience, the story possibilities, the play opportunities and the attractiveness of the set, I have to go with 41196 The Elvenstar Tree Bat Attack.
I was hesitant about recommending two sets from the Elves line when it seems that Elves are on the way out, but these are simply terrific. I'd highly recommend getting them while you still can. Your only opportunity may be online; at my local LEGO Brand Stores they're not carried any more.
You can read our review here.
---
FlagsNZ
21313 Ship in a Bottle ($69.99, £69.99, 69.99€)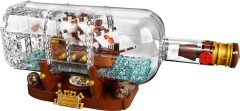 Ship in a Bottle
21313
As an advocate for LEGO Ideas and also being a master mariner and former seafarer, the set in the $50 to $100 Holiday Gift Guide category that I would like to recommend is 21313 Ship in a Bottle.

This is a relatively compact display model; the microscale galleon could easily be a model in its own right. There is also scope for you to build your own microscale model to be displayed in the bottle.

One of the main attractions of the Ship in a Bottle is that it could easily be displayed at home or work as it clearly replicates some real ships in bottle models.

The one very minor criticism is that the model is vastly smaller than the original concept submitted to LEGO Ideas. This was clearly done to make the assembly more stable so is, therefore, a reasonable compromise. I believe the original submission achieved 10,000 supporters in less than two months.
You can read our review here.
---
Huw
21315 Pop-Up Book ($69.99, £59.99, 69.99€)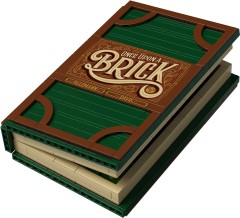 Pop-Up Book
21315
LEGO Ideas has provided us with a fantastic selection of sets this year but if I had to pick just one to buy for myself or to give as a gift, it would be 21315 Pop-Up Book. It's cleverly designed, attractive and comes with an awesome selection of minifigures.
I believe it has broad appeal and LEGO fans of all ages would be pleased to receive it.
You can read our review here.
---
Are you hoping to receive any sets within this price range and what would you recommend to others? Let us know in the comments.