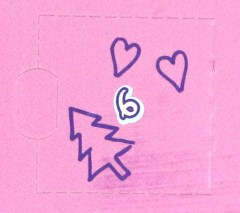 Yesterday's ornament was definitely holiday themed, but perhaps not the best snowman representation we've had to date. There's always next year! Meanwhile, let's see what door number 6 has in store for us.
View image at flickr
We continue on our holiday theme with another festive staple - a stocking. It seems ready for Santa with its colouring - red and white.
View image at flickr
There's also a bit of festive greenery added with a red flower, further adding to the holiday spirit. A 2x2 white coupling plate provides the means for a hanger, and the stocking is finished with a purple accent of two 1x2 medium lilac plates.
I think this is a very nice representation of a stocking, and will fit in well on the tree.