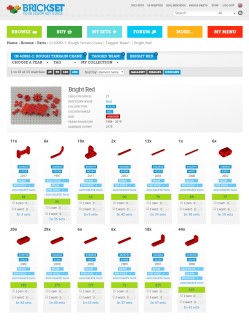 In our recent call for suggestions for improvements many of you commented that it was difficult to find parts and that you missed the categorisation that we used to show. Unfortunately parts categories are no longer published by LEGO so we can't make use of them any more, and in any case many didn't make a lot of sense to those of us outside of the company,
So, what we are doing instead is tagging parts and improving the way that tags can be used. So far we have completed this work on Technic parts.
They've been tagged by type (e.g. beam, axle, gear), function (e.g. linear actuator, pneumatic) and also by connection (e.g. axle hole, half-pin hole).
Furthermore, it's now possible to filter by multiple tags. Once you've selected one from the drop-down list you can select another from the drop-down or use the new + / - links shown next to the tags in the listing.
The + will add the tag to the filter. - will do one of two things. If the tag it's next to is already in the filter it'll be removed. If it's not, it'll be excluded. This means that you can easily list, for example, all connectors that have axle hole(s) and pin hole(s) or all lime green beams that do not have axle holes. I suspect it's easier to use than to explain, so go and have a go for yourself!
It's also now possible to view a set inventory as a normal parts listing. There's a new link under the Parts tag on set details pages: View inventory in parts list »
The advantage with this is that you can then use the filters for colours and tags and so on to easily see, for example, all the red beams in Rough Terrain Crane, all the panels in Mack Anthem, all the System parts in the Bugatti Chiron.
There's room for improvement still, so do let me know what you think and if you have any suggestions.
Our next task is to tag System parts: brick, plate, slope, modified, stud, 318 bar, inverted and so on. That's a huge undertaking and it won't happen overnight. If you'd like to get involved in that, do get in touch!
Finally, I'm currently refreshing the inventories from LEGO Customer Services to pick up any recent changes. With over 7000 of them to do it's taking a while!
Sponsored content