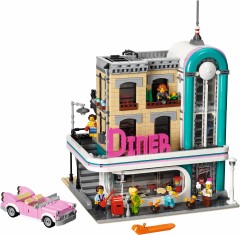 We are approaching the conclusion of the Brickset Holiday Gift Guide series for 2018 and our focus now shifts towards larger sets, costing between $100 and $200 in the US.
You can view a complete list of the twenty sets within this price bracket here and find what the Brickset team recommends after the break...
CapnRex101
75181 Y-wing Starfighter ($199.99, £169.99, 199.99€)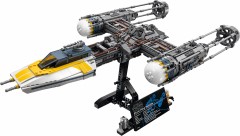 Y-wing Starfighter
75181
75181 Y-wing Starfighter is probably my favourite LEGO Star Wars set of 2018 and is undoubtedly the most impressive rendition of the Rebel Alliance's resilient fighter-bomber which has been produced. This starfighter includes incredible mechanical detailing and looks splendid when compared with the source material, as one would anticipate for an Ultimate Collector Series set.
I would also recommend 10260 Downtown Diner, which maintains the exceptionally high standard that we have come to expect of the Modular Buildings, along with 42078 Mack Anthem. The 2595-piece Technic set looks spectacular on display and its unique functions have been implemented effectively.
You can read our review here.
---
iso3200
10260 Downtown Diner ($169.99, £129.99, 149.99€)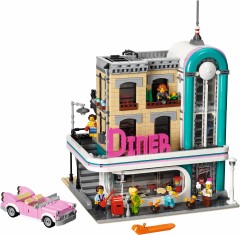 Downtown Diner
10260
I simply must champion 10260 Downtown Diner in this category. It's a nice diversion from what has gone before in the modular line with whacky colours, sweeping curves and 50's architecture. It's jam packed full of tiny details and comes with six colourful characters to help make the most of play on all the levels. The build itself is interesting and varied yielding a fabulous looking end result.

With nearly 2500 pieces it offers very good value for money and a fair few hours of building time. It's obvious that a lot of love has gone into the design of this and it shows. Simply brilliant.
You can read our review here.
---
MeganL
10260 Downtown Diner ($169.99, £129.99, 149.99€)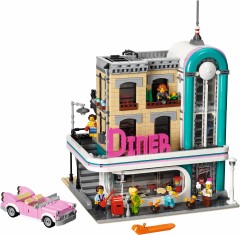 Downtown Diner
10260
I'm admittedly biased toward Modular Buildings, so it would take a lot for me to recommend a set other than that year's modular. While there are some great sets in this price range, nothing beats 10260 Downtown Diner in my opinion. I love how the modular buildings continue to have a wide variety of businesses represented in the build, including the boxing ring for 2018.
The diner also does not disappoint with the level of detail included (I particularly love the server's roller skates) and the novel building techniques. I also may be in the minority but I like the change away from traditional smiley faces, allowing more opportunities for play and display.
You can read our review here.
---
FlagsNZ
42078 Mack Anthem ($169.99, £129.99, 149.99€)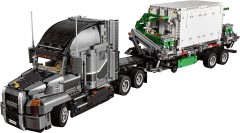 Mack Anthem
42078
From the unique gold bulldog hood ornament to the innovative micro straight-six diesel engine, 42078 Mack Anthem is my choice for this year's Holiday Gift Guide in the $100 - $200 range.

With 2595 parts, this is the seventh largest Technic set and represents very good value for money. I have noticed this year that the Technic designers are including quite a few system parts to add detailing in their Technic models and the Mack Anthem incorporates quite a lot of system parts around the cab which improves the accuracy of the truck.

Furthermore, this model includes an ingenious side lifting mechanism to lift the Technic container onto the trailer.
You can read our review here.
---
Huw
42081 Volvo Concept Wheel Loader ZEUX ($139.99, £109.99, 119.99€)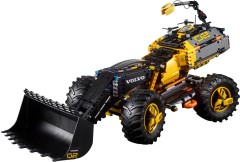 Volvo Concept Wheel Loader ZEUX
42081
There are plenty of top-of-the-range retail sets vying for your attention at this price bracket, not to mention Creator Expert sets 10260 Downtown Diner and 10262 James Bond Aston Martin DB5.
However, the one I enjoyed building the most out of the selection is 42081 Volvo Concept Wheel Loader ZEUX. Based on a futuristic concept, it's unlike any other Technic set and comes packed with interesting functionality such as an adjustable wheelbase, moving counterweight and, of course, a bucket for picking up whatever pretend rocks you have lying around. There's no complex gearbox or other mechanisms to construct so it makes the perfect introduction to Technic building.
You can read our review here.
---
Are you hoping to receive any sets within this price range and what would you recommend to others? Let us know in the comments.