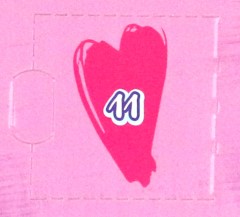 One theme that seems to be recurring in this calendar is that for every day that there's a really nice build, the next build is.....fine, but nothing exciting. Yesterday's build was quite nice, but not all that exciting.
However, I remember well that in previous years, on day 10 or 11 was when the "build" was assorted hair pieces and bows, and nothing to build whatsoever. Compared to that, I'm very happy knowing that whatever lies behind door number 11, it's not going to be accessories!
View image at flickr
Today's build seems to belong to the other theme building in this calendar, the colour purple. It's a very nice lantern in medium lavender and medium lilac, with accents in warm gold on each of the four pillars. I like that window pieces have been used for the glass, as opposed to leaving them out.
View image at flickr
Although a flame piece could have been used, I like the choice of the transparent orange globe piece for the flame - it likely fits much better in the provided space and looks like a candle. There's some decorative greenery on the top of the lantern, which is hung from a black 2x2 round plate w/ eye.
So far in this calendar, I think there have been as many purple pieces as red pieces. I'm looking forward to seeing the alternate builds on the 25th - I think they'll feature a lot of purple!
Sponsored content