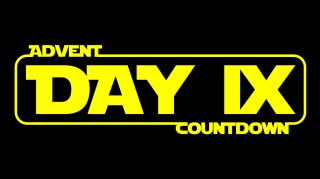 Consistent themes have begun to emerge from this 2018 Star Wars Advent Calendar during the last four days. On that basis, it seems likely that another pair of gifts inspired by the same movie will occupy doors nine and ten.
Find out after the break...
General Grievous pilots a Belbullab-22 Starfighter known as Soulless One during the Clone Wars and this rendition of the craft looks wonderful. The distinctive reddish brown and tan stripes are included and I love the curved engine housing on either side of the fuselage. In addition, this model feels sturdy so is ideal for play.
View image at flickr
Unfortunately, the vessel lacks an important feature that was present on General Grievous' starfighter from 9509 Star Wars Advent Calendar in 2012. The angular thrust vectoring fin towards the rear of the craft is prominent in Star Wars Episode III: Revenge of the Sith and The Clone Wars animated series so its omission here is disappointing. The trans-clear 1x1 round brick is a good alternative though, supporting the model at an accurate angle for landing.
Overall - 4.5 - This is an excellent miniature version of General Grievous' starfighter and would receive full marks, were it not for the absent rudder.