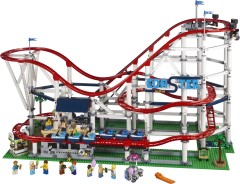 Part five of the 2018 Brickset Holiday Gift Guide is focused upon the largest sets produced during this year, priced at more than $200 in the US.
There are seven sets within this bracket and you can view them all here. Find out which sets the Brickset team has selected after the break...
---
CapnRex101
70657 NINJAGO City Docks ($229.99, £199.99, 229.99€)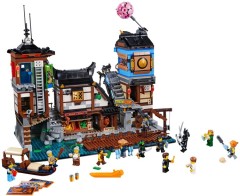 70620 NINJAGO City was undoubtedly among the most impressive sets released in 2017 and its successor, 70657 NINJAGO City Docks, is similarly outstanding in my opinion. This model seems slightly more realistic than the structure from last year and it looks spectacular on display, featuring some wonderful building techniques and a brilliant selection of useful pieces.
Furthermore, the minifigure selection is excellent and this set offers tremendous play value, including many different buildings for the characters to inhabit and explore. I am equally satisfied with the price so can wholeheartedly recommend this set, even to those who do not own 70620 NINJAGO City!
You can read our review here.
---
iso3200
10261 Roller Coaster ($379.99, £299.99, 329.99€)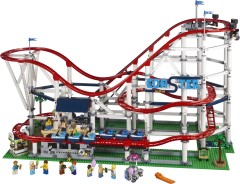 Roller Coaster
10261
There are seven sets in this category, all different beasts, all good in their own ways, and most demanding a decent sized shelf. As I only own one of them it's hard to give a solid recommendation based on my own experiences, so instead I'll declare my wants in public.

Dear Santa, if I promise to be good, will you bring me a 10261 Roller Coaster? I don't really have room for it. It is the most impractical for me to own for sure. But it fills my desire glands like no other set in the group. Why? Because it's so cool! I want to play with it. I want to play with it now - and then add motors to it as soon as I possibly can.

Currently it's the king of the fairground series, and I can't see that crown being taken anytime soon. It's a future classic. Highly desirable!
You can read our review here.
---
MeganL
71043 Hogwarts Castle ($399.99, £349.99, 399.99€)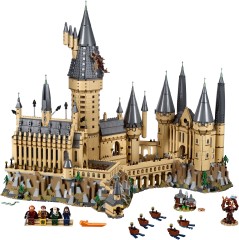 Hogwarts Castle
71043
I'm not a NINJAGO collector, but like many non-NINJAGO collectors, I had to get my hands on 70657 NINJAGO City Docks when it came out earlier this year. That would have been my selection for this price range if it hadn't been for 71043 Hogwarts Castle.
I'm a Harry Potter fan, but even for those who aren't, this is a terrific build that goes quickly for such a large set. The individual rooms are rendered very effectively, much more so than I would have anticipated for a microscale building. The same goes for the nanofigs. I just may have bought a couple of these sets to gift to family members - also Potter fans, of course.
You can read our review here.
---
FlagsNZ
42082 Rough Terrain Crane ($299.99, £229.99, 229.99€)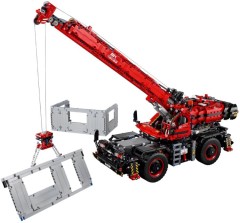 For a multitude of reasons, I would like to recommend 42082 Rough Terrain Crane for the Brickset Holiday Gift Guide for sets above $200. The Rough Terrain Crane has the largest parts count for any Technic set and so it represents quite good value for money. The model is also incredibly strong; the outriggers are capable of lifting the chassis off the ground.
However, what makes the Rough Terrain Crane the feature set for 2018 is its ingenious gearbox. This makes operating all of its Power Functions really easy. So if you are planning to give this set as a gift, or are lucky enough to receive it, there will be hours of fun building the model and then you will be rewarded with lots of Technic play features.
You can read our review here.
---
Huw
10261 Roller Coaster ($379.99, £299.99, 329.99€)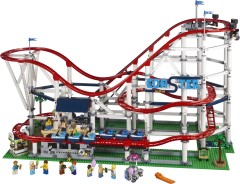 Roller Coaster
10261
Fans have waited patiently for a LEGO rollercoaster and this year they've been spoiled for choice with no less than 3 to choose from. However, the biggest and best is of course the flagship Creator Expert set 10261 Roller Coaster that provides for hours of fun, particularly when motorised.
Before you buy it, just make sure the recipient has room for it because it's huge! Older kids and adults may prefer 42083 Bugatti Chiron, the ultimate LEGO super car and Technic set: It offers a wonderful – and challenging – build and the completed model looks superb.
You can read our review here.
---
Are you hoping to receive any sets within this price range and what would you recommend to others? Let us know in the comments.