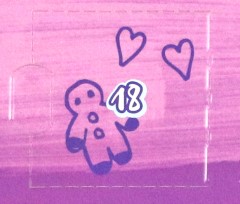 It seems like every year there are a few builds dedicated to food - more specifically desserts - and this year is no exception, with the last two days prior to yesterday featuring them. Will we continue with more baked goods in Day 18, or will the ornaments go in a different direction?
View image at flickr
More desserts it is! Today's ornament is a rather charming cupcake stand. Though calling it a stand may be a bit optimistic, as there's only a solitary cupcake on display. Regardless, the stand is rather festive with transparent green and pink lights plus some stylized candy canes on either side.
View image at flickr
With all the 1x1 pieces in this build, this build has the benefit of having a lot of extra parts. To me, the colour scheme looks a bit disjointed but the build still works. It seems the designer has made the effort to use a few warm gold pieces in the calendar as well as we see another 2x2 jumper as the display area for the cupcake. A T-beam with 1x2 plate is used to hang the ornament.
Today's purple factor - the hanger is bright reddish violet, as is a supporting 1x4 plate for the top of the cupcake stand.
Sponsored content