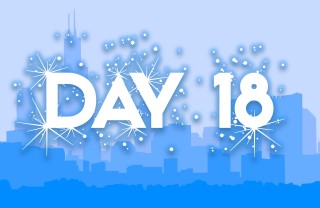 I have been very pleased with the last couple of items from the LEGO City Advent Calendar and am hoping that high standard will continue on day eighteen.
Find out after the break...
60180 Monster Truck was released in January and minifigures now have a miniature version of the set to enjoy! This tiny model captures the vital details of its source material, featuring a bright colour scheme of blue, orange and white. I am particularly impressed with the light bluish grey 1x1 tile which represents an air scoop on the bonnet and the trans-black windscreen looks superb too.
View image at flickr
Unfortunately, the enormous tyres that appear on monster trucks have not been captured here. Instead, the designer has used skateboard wheels which would be suitable for the majority of miniature cars but appear small here. However, I do appreciate the inclusion of a reddish brown mound, forming the jump which appears in 60180 Monster Truck!
Overall - 4.0 - These miniature LEGO sets are always enjoyable and I like the Monster Truck, although its wheels seem rather small for such a beefy vehicle.