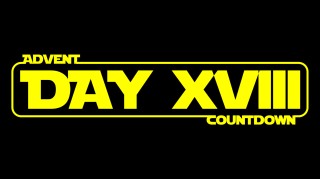 Two of the more recent Star Wars movies have inspired the minifigures and models which have emerged during the last couple of days. It seems likely that trend will continue during the last week of the calendar.
Let's find out...
TIE Fighter variants have appeared in several LEGO Star Wars Advent Calendars and this example takes inspiration from the First Order TIE/sf Fighter. Its light bluish grey and black colour scheme looks fantastic in relation to the vehicle from the movies and I like the red stripe on the left side of the cockpit, identifying this as a Special Forces craft.
View image at flickr
Light bluish grey 2x4 wedge plates form the solar array wings and a trans-red 1x1 round tile represents the cockpit viewport. Both features correspond with the original starfighter and the model is surprisingly robust, despite there only being a single stud that links the cockpit module to the wings. The 2x2 round plates on the external surface of each panel are rather large and tiles would have been more suitable, although that is a relatively minor issue.
Overall - 4.5 - This is an excellent model of the First Order TIE/sf Fighter, featuring an accurate colour scheme and some pleasing details.
Sponsored content