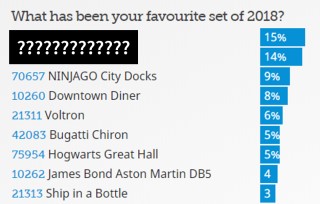 LEGO produced nearly 800 different sets during 2018 and we invited Brickset members to choose their favourite in our poll towards the end of the year. Now we are ready to publish the results.
More than 4000 votes were submitted but there are just 30 votes between first and second place!
Find out which 2018 set was the most popular with Brickset readers after the break...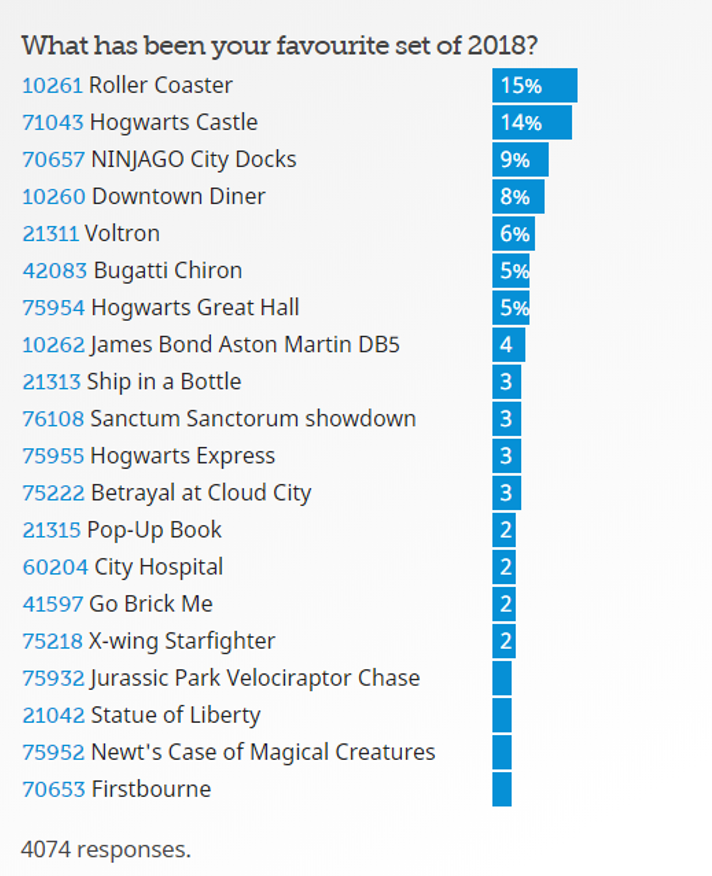 What distinguishes 10261 Roller Coaster and 71043 Hogwarts Castle from other 2018 sets?
10261 Roller Coaster and 71043 Hogwarts Castle quickly drew away from the competition in this poll, receiving more than a quarter of the vote share. That result is not entirely surprising but demonstrates the considerable influence of novelty, scale and detail. For instance, there has been notable demand for a LEGO roller coaster since 10244 Fairground Mixer was released and nothing on this scale has been produced previously. 71043 Hogwarts Castle looks similarly spectacular on display.
Why is 21311 Voltron so popular?
Three different LEGO Ideas sets appeared in the poll and 21311 Voltron was by far the most popular, receiving 267 votes compared to 147 for 21313 Ship in a Bottle and 118 for 21315 Pop-Up Book. Once again, I think novelty played a significant role here. Mechs and robots are a common subject for LEGO models but this example is absolutely enormous and incorporates a magnificent transformation feature, unlike past sets.
---
Which set did you vote for and does this result surprise you? Let us know in the comments.
Sponsored content