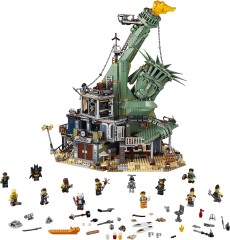 The highly anticipated 70840 Welcome to Apocalypseburg is now available at shop.LEGO.com for VIP members.
In addition, there's a new gift with purchase. Place an order over 40€ / £35 (t.b.c) and you'll receive three packs of The LEGO Movie 2 trading cards. VIP members will also receive a collectors' book to keep them in.
You can read the press release for the set here. We'll publish our review in the next few days.
Please place your order using the links below:
USA | Canada | UK | Germany | France
Thank you!