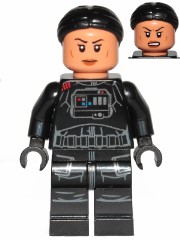 Over 1000 different Star Wars minifigs have now been catalogued by BrickLink which has prompted the site to renumber them, by adding a leading zero to their reference numbers. So what was SW265 is now SW0265, and so on.
This has caused a few problems here at Brickset because we use the reference numbers as the foreign key in tables that relate to minifig data. As a result, your Star Wars minifig collection disappeared from view for a while today, along with tags and character names and so on.
Luckily it was easy enough to run some update queries to sort things out but because of the way data is cached and calculated it may take a little while before things appear normal. Data will be imported and processed again overnight tonight so everything should sort itself out by the morning.
Rest assured that nothing has been lost and you won't need to re-enter any data. Nevertheless, I apologise for any inconvenience.
So, what is the 1000th minifig to be catalogued? SW1000 is Iden Versio (Inferno Squad Commander) who appears in 75226 Inferno Squad Battle Pack.