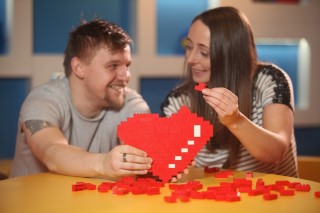 LEGOLAND Discovery Centre in Manchester is holding a special adults-only Valentine's event this year:
Calling all ADULT fans of LEGO! We're hosting an AWESOME alternative Valentine's night! Come along on Wednesday the 13th February at 7pm and share your LEGO Love with like-minded people, and for the singles…maybe find your missing piece!
The event is not exclusive to singles, anyone who loves LEGO is welcome to attend and mingle – there'll be all the usual fun for regulars at AFOL nights! But to help the singles spot their potential future Mr or Mrs Brick, there will be a traffic light style Lego block badge system to identify the possibility for love.
Are you single but not a big LEGO fan? Come along anyway! This HAS to be more fun than your average singles night, right?
So what's to lose? If you don't find the person of your dreams, you can always make them!
Find out more and buy tickets at the LLDC website.