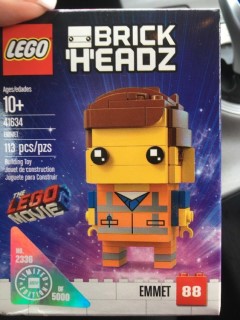 Some of the four LEGO Movie 2 BrickHeadz that were uncovered just a few days ago are now showing up in stores in the USA.
41634 Emmet and 41635 Wyldstyle are exclusive to Walmart and it would appear that they are limited to just 5000 and individually stickered, as this picture from Reddit shows. They can be ordered online so it may be as well to do so ASAP if you're after them. Here are direct links to the product pages at Walmart.com: Emmet and Wyldstyle.
The Brick Fan is reporting that 41637 Sweet Mayhem is likely to be exclusive to Target and the availability of 41636 Benny is not yet known.
Availability outside of the USA is not yet known but we'll keep you informed.