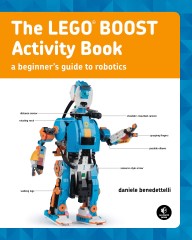 The award-winning 17101 Boost Creative Toolbox remains a very popular product and one of the best on the market for getting kids interested in programming and robotics.
I've had one since it was first released but I've not really felt inclined to bother to learn it, mainly because the software is presented too much like a game and actually figuring out how to program the device to control your own creations is obfuscated as a result.
However, two things have prompted me to try and get to grips with it again: the publication of The LEGO Boost Activity Book by Daniele Benedettelli and the Boost/PoweredUp! components that LEGO recently sent me to review. I'll write more about them and my efforts soon but for now let's look at the book.
---
Daniele Benedettelli has been writing LEGO robotics books since Mindstorms NXT was new so is something of a subject matter expert. He's also a teacher of robotics, so is ideally placed to author a book like this.
Like all good educational books this one begins with the basics then builds upon them, introducing new concepts and techniques so that by the end of the book you've learned everything and are ready to tackle just about anything.
To introduce the basics in part one of the book a simple chassis called Mario is constructed and programmed to move, be remotely controlled, detect colours, play sounds and so on.
In part two, sensors and mechanisms are added to it, to enable it to follow lines and walls, play darts and accomplish other tasks. By the end of this section both building and programming techniques have been covered thoroughly.
The last two sections introduce two new robots: BrickPecker, a brick sorting bird, and cybot, the humanid robot on the cover of the book. These build upon the knowledge learned previously and put it to practical use in something more impressive than the test chassis.
Building instructions are on a par with official LEGO ones and programming sequences are illustrated with full-colour screen shots, often with explanatory call-outs.
I found the explanations of the programming blocks and how to use them particularly useful because comprehensive information about them is seriously deficient in the official documentation: I no longer need to rely on trial and error to find out what they do!
View image at flickr
View image at flickr
It's certainly possible to muddle through and learn the basic concepts of Boost programming by following all the exercises/games in the Boost software but this book negates the need to waste time doing that, while also ensuring that you get a full understanding of the system's capabilities and best practices, even if you don't intend to actually build the robots, which I haven't.
Instead, I've put my new-found knowledge to good use by incorporating the Boost hub LEGO sent me into a GBC machine which I will write an article about shortly.
Thus, I can highly recommend this book to anyone that wants to take a more structured, grown-up, approach to learning how to program Boost than fiddling about with the games in the Boost software.
It was published just before Christmas and is available from Amazon.com, Amazon.co.uk, and also directly from No Starch Press. If you purchase from there you'll get a eBook copy thrown in for free.
---
Thanks to No Starch Press for sending me a copy to review. All opinions expressed are my own.