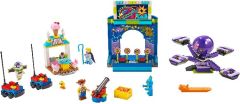 The New York Toy Fair reveals just keep on rolling in, as courtesy of DisKingdom, we have the first look at a set based on the upcoming Pixar sequel Toy Story 4!
10770 Buzz & Woody's Carnival Mania! will be available in the spring for $39.99, and includes Buzz and Woody themselves, as well as Bo Peep, Ducky, Bunny, and several fairground attractions.
Hopefully the rest of this wave, known to be marketed as "4+" (this year's replacement for Juniors), will be shown off at the LEGO booth tomorrow!
What do you think? Let us know in the comments below.