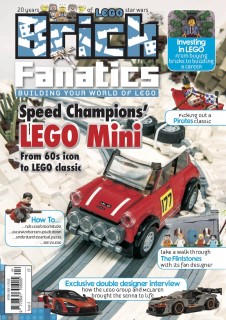 When we announced the launch of Bricks Fanatics magazine late last year there was scepticism from some of you, and me, about whether we needed another LEGO magazine, and also whether we actually needed a LEGO magazine at all, given the plethora of websites that provide news, reviews and so on, for free.
Now it's had a few months to get established I thought it would be worthwhile taking a look at the latest issue so you can judge for yourself whether that scepticism was justified.
---
It's an 80-page A5-sized publication so it's half the surface area of most magazines. However, what it lacks in size it makes up for in the quality of the articles and contributors.
Magazine editor Rob has given me permission to reproduce a few spreads so you can see for yourself what's inside.
View image at flickr
Content can roughly be categorised as follows:
On Topic (news): not just a re-hash of old news but more of an in-depth look into recent significant stories, such as the 20th anniversary of LEGO Star Wars this month
How to: Tips and techniques for building, photography, using online resources and so on
Columns by regular contributors including Kevin Hinkle and Jme Wheeler
In depth articles which this month includes one about designing the Speed Champions McLaren Senna with contributions from the designer of the actual car at McLaren as well as the LEGO designer, Christoper Stamp.
Review+: You'll probably be pleased to hear that there are no regular reviews in the magazine, there are plenty of them online, after all. In their place are articles that provide background information about the sets or insight into the design process. In this issue, for example, there's the story of the real-life MINI Cooper that inspired the 1967 Mini Cooper S Rally in 75894, illustrated with an excellent diorama built by Simon Pickard, and how LEGO designer Leo Francisco was tasked with reducing the size of the classic 9448 Samurai Mech to produce this year's Ninjago Legacy 70665 Samurai Mech.
So, despite its diminutive size it's packed with good quality content from authoritative contributors that you won't find elsewhere. Unlike some magazines there's no filler and you'll probably find yourself reading it from cover to cover, as I did.
It's not perfect by any means. The quality of the photography is variable, which I guess is inevitable given the photos are often taken by the contributors, not all of whom will have the ability to properly light and photograph their models. It's certainly not a problem unique to this magazine but it does detract from the overall perception of quality.
You'll find it in WH Smiths and Barnes and Noble, and you can also take out a subscription or buy single copies online. I know Rob and his team work hard to produce it and have big plans for the future, so do support them by taking out a subscription if you can.
View image at flickr
View image at flickr
View image at flickr
---
Thanks to Rob Paton for sending me a copy to review. All opinions expressed are my own. Brickset will receive a small commission on orders placed via our affiliate links.