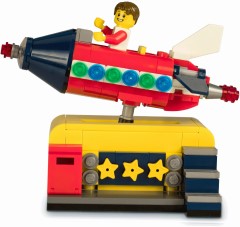 Promobricks has posted this picture of 40335 Space Rocket Ride on Instagram having obtained it in a certified LEGO store in Croatia.
It's based on the winning entry of a competition that was run on the Ideas platform last year, where the grand prize was to have your model turned into a gift with purchase. We can therefore expect it to be available later this year at shop.LEGO.com.
Talking of GWPs, 40334 Avengers Tower will be the GWP later this month, from 19th April to 2nd May, with a spend of $75 on Super Heroes sets. Thanks to JZintel for the news.