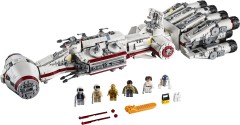 The latest LEGO Star Wars direct-to-consumer set has been revealed at Star Wars Celebration!
75244 Tantive IV, 1768 pieces
US $199.99, CA $269.99, DE €199.99, UK £179.99, FR €219.99, DKK 1799.00, AUD $329.99
Available from the 3rd of May, with no VIP early access.
Own an iconic Rebel Blockade Runner - Tantive IV!
Build, play and display a legendary Star Wars starship! This LEGO Star Wars 75244 interpretation of Tantive IV, seen fleeing from an Imperial Star Destroyer in the opening moments of Star Wars: A New Hope, faithfully recreates all of the Rebel cruiser's signature details, including an elongated hull, detachable escape pods, elevating gun turrets, cargo hold and 11 massive engines at the back.
Remove the hull plating of this fantastic LEGO Star Wars vehicle to reveal a detailed 2-minifigure cockpit, conference area with table, weapon rack and a control console with 2 seats. The radar dish also doubles as a convenient carry handle, which makes it perfect for flying around the room. When the mission is over, this amazing kids' buildable toy also makes a great centerpiece for any LEGO Star Wars collection. The set also includes 5 minifigures and an R2-D2 droid LEGO figure.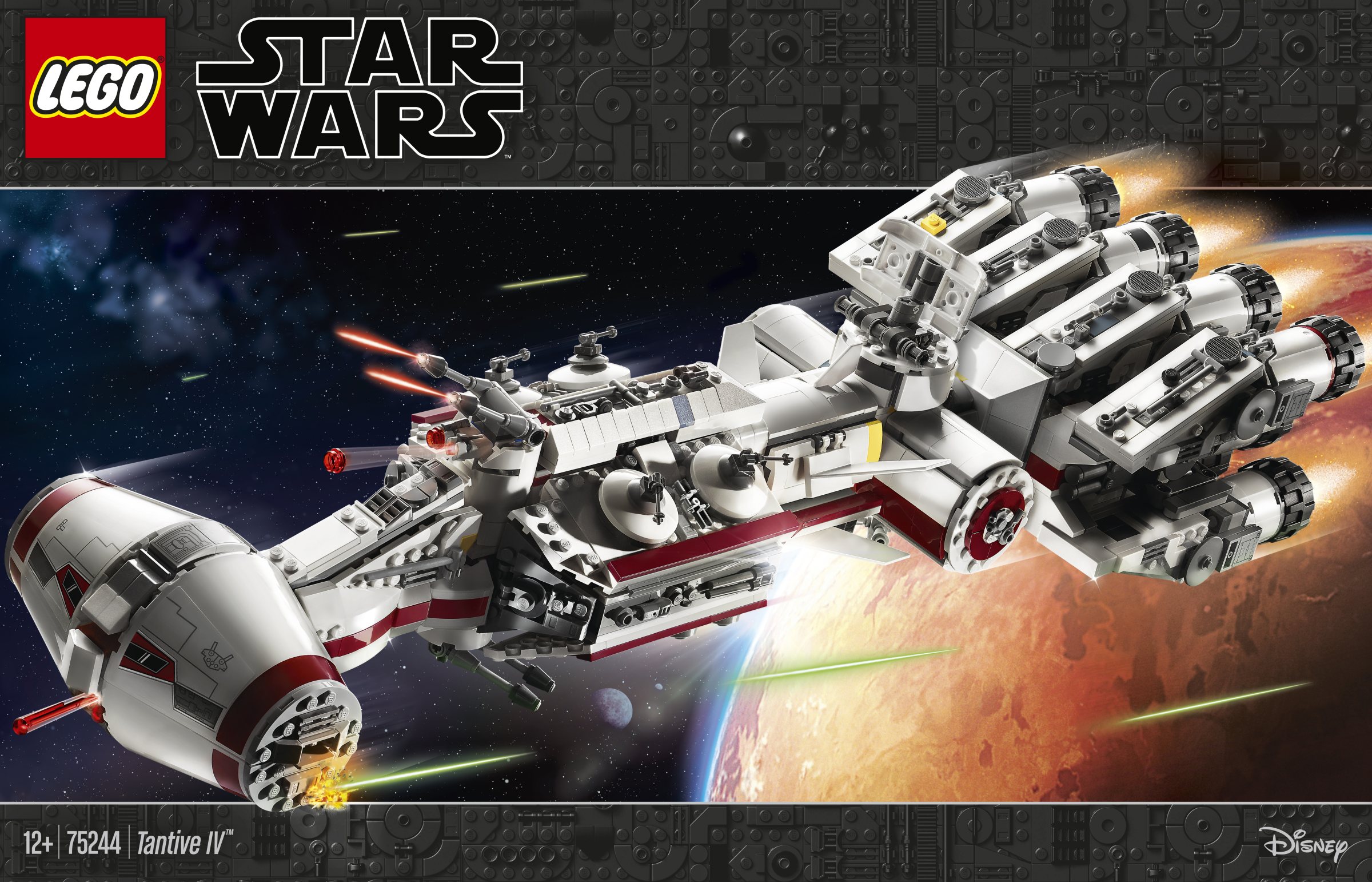 Includes 5 LEGO Star Wars minifigures: Bail Organa, Princess Leia, Captain Antilles, C-3PO and a Rebel Fleet Trooper, plus an R2-D2 droid LEGO figure.
Tantive IV LEGO Star Wars construction toy features a radar that doubles as a carry handle, 2 detachable escape pods with space for a minifigure inside, opening cargo hold and removable cargo box, opening 2-minifigure cockpit, rotating and elevating stud-shooting turrets on top and 2 spring-loaded shooters underneath. The top hull detaches to reveal a detailed interior including a conference table, weapon rack and a control console with 2 seats for the minifigures.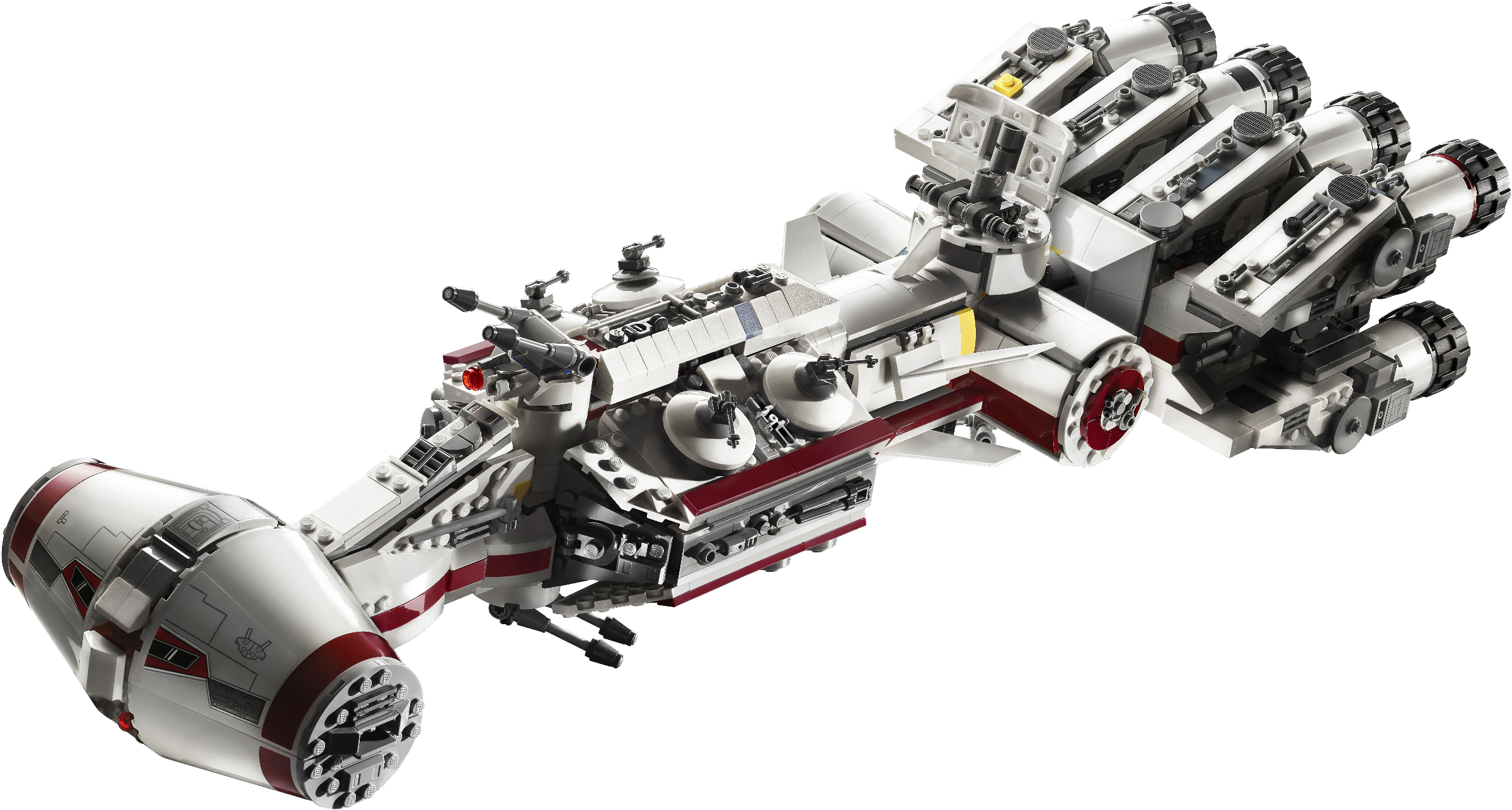 Weapons include a blaster pistol and 3 blasters.
Also includes a pair of electrobinoculars.
Captain Antilles minifigure is an updated version from 2009, while Princess Leia's skirt and Bail Organa are new for April 2019.
This highly detailed building toy construction set includes over 1,750 pieces.
Recreate amazing moments from the opening scene of Star Wars: A New Hope or play out your own exciting adventures!
LEGO Star Wars starship measures over 5" (14cm) high, 24" (62cm) long and 7" (19cm) wide.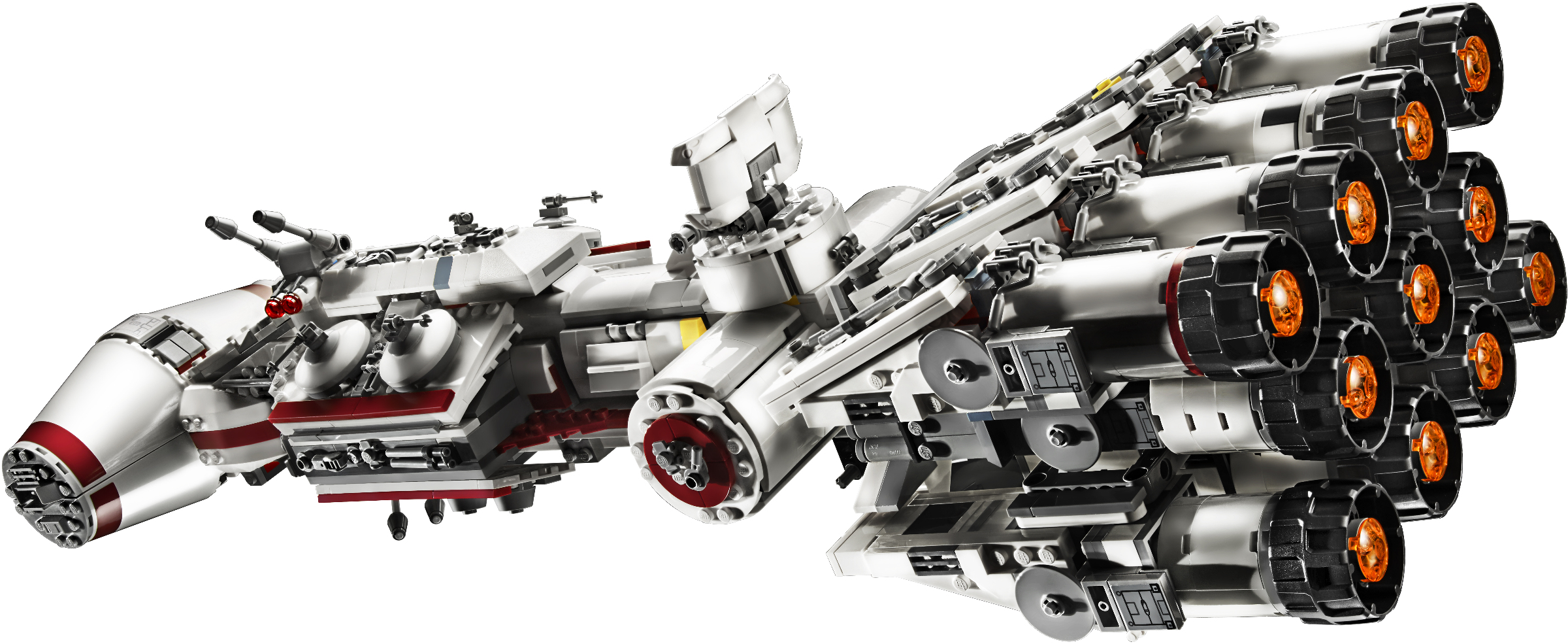 ---
You can find additional images on the set details page.
It is interesting that neither the Ultimate Collector Series nor the Master Builder Series are mentioned anywhere in the press release or on the packaging. This model appears to fall somewhere between the two ranges as it looks very detailed while also incorporating some play functions.
Are you impressed with 75244 Tantive IV and why do you think it has no Ultimate Collector Series or Master Builder Series branding? Let us know in the comments.