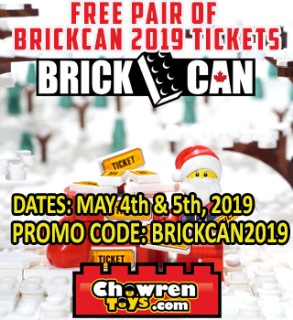 Chowren Toys is providing ten pairs of free tickets to BrickCan 2019 in Richmond, British Columbia:
BrickCan is the largest public exhibition of LEGO creations ever held in British Columbia and returns to the River Rock Casino Resort in Richmond on May 4th & 5th, 2019.
We are once again sponsoring this fun-filled event and have 10 FREE pairs of tickets (20 tickets) to give away for the public exhibit. 5 pairs for 9am to 11am session on May 4, 2019 and 5 pairs for for 9am to 11am session on May 5, 2019.
Please note this year these free tickets will only be available for pick up at will call. Will call is located inside the River Rock Show Theater and the tickets will be under the name given at check out.
All Brickset readers need do is enter the promo code BRICKCAN2019 at the check out to get the free tickets. It is 1 pair of tickets per household. They are not for resale and have no dollar value. There are only 10 pairs, with 5 for each day, so please only take these if you are serious about attending.