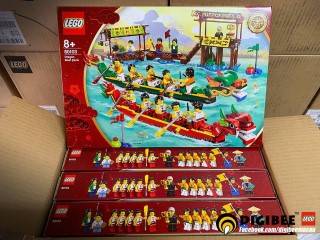 An image showing 80103 Dragon Boat Race has been published on Facebook by DigiBee. This set will presumably be released next month as the annual Dragon Boat Festival begins on the 7th of June during 2019.
Unfortunately, the model is unlikely to become available outside the Asia-Pacific market based upon the release of 80101 Chinese New Year's Eve Dinner and 80102 Dragon Dance.
You can read our reviews of the earlier Chinese New Year sets here:
Have you purchased the previous Chinese New Year sets and are you impressed with this one? Let us know in the comments.
News via Promobricks.