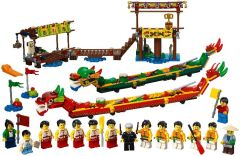 LEGO has uploaded images of 80103 Dragon Boat Race to its server in preparation for selling at shop.LEGO.com.
It's unclear at the moment whether it will be available outside of Asia and Australasia but if the company is true to its word about regional exclusives then we should expect it to be, perhaps in a few months' time.
You can view more photos of this exquisite set and its fifteen -- yes, fifteen -- minifigs, after the break.