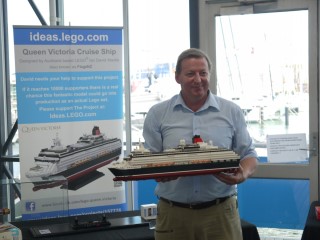 One of the latest inductees into the LEGO Ideas 10k Club is Brickset's very own staff editor David Wardle (FlagzNZ), whose excellent Queen Victoria Cruise Ship project achieved 10,000 supporters in December last year.
While we wait patiently for the results of the third 2018 Ideas review, in which the ship is battling it out with four other projects, you can read more about David, the ship, and his project on the Ideas blog where he is the latest subject of a 10k club interview there.
Hopefully we will learn the results of the review soon: last year they were announced at the end of May and it's entirely possible that the announcement will be made during the Fan Media days this week.
As I've said before, as a regular cruiser, I'd buy the set in a heartbeat. Best of luck David!